Registrations have closed.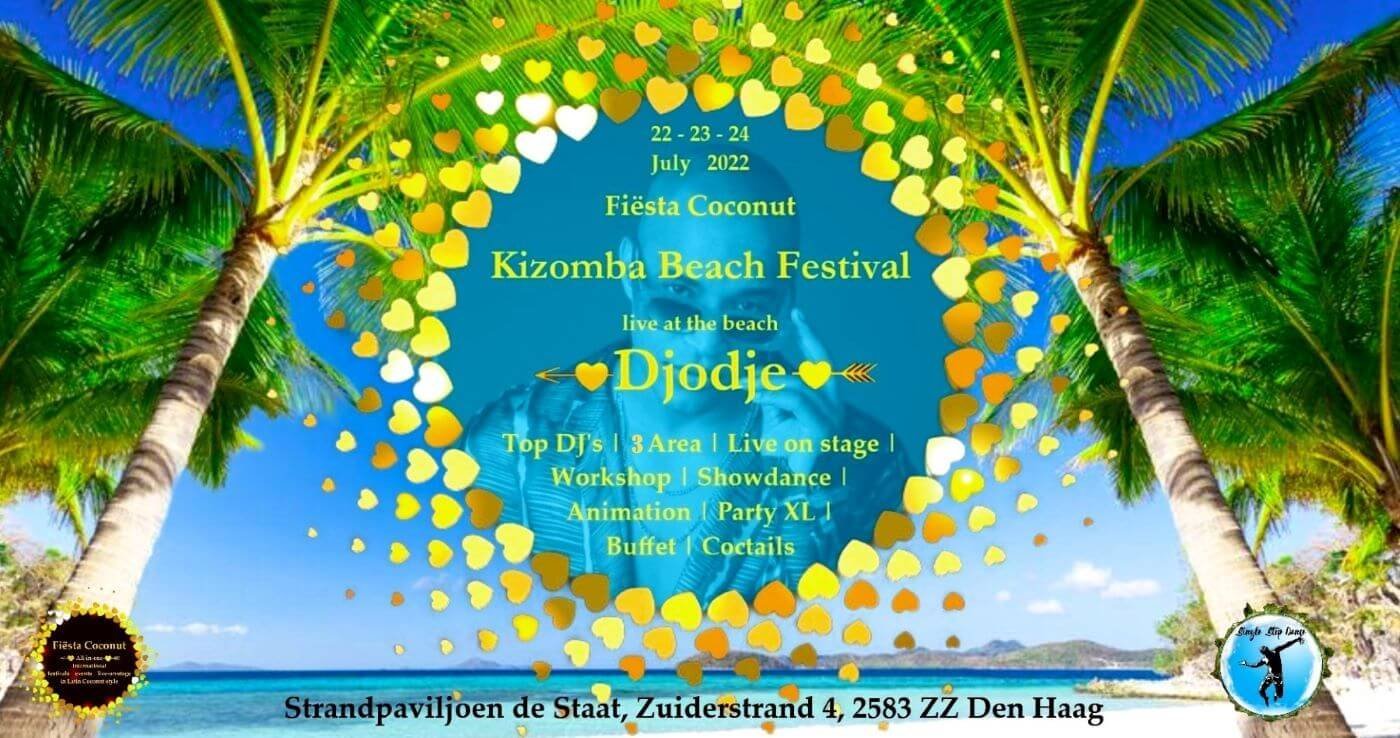 2022 KIZOMBA BEACH FESTIVAL WILL MAKE YOU MOVE!
1362
1362 people viewed this event.
Welcome to the 2022 Kizomba Beach Festival Fiesta Coconut! This Kizomba dance beach festival will be held from July 22 till 24, 2022 in the Hague!
DISCLAIMER: This post may contain affiliate links. If you buy something through one of these links or promo codes, you won't pay a penny more, but we will get a small commission, which helps keeps the lights on.
The highlight of this festival will be dancing on the beach with Djodje live on stage! Djodje is originally from Cape Verde and is a famous singer and also songwriter living in Portugal! He is known around the world for his soft and strong voice that makes you want to move to the rhythm of Kizomba!
Why should you attend this Beach Festival?
Firstly there will be three areas both in and outside! Secondly, there will be a Kizomba area, an Urban Kiz area, and also a Bachata area. Thirdly it will feature three days and nights with dance workshops, socials, and fun parties! Fourthly, there will be teachers for Kizomba, Urban Kiz, Semba, Afro Dance, and Bachata!
Beach Festival Daily Program
13:00 till 15:00 workshops
14:00 till 18:00 Social
18:00 till 19:00 Diner break
19:00 till 00:00 Party
00:00 till 03:00 Afterparty
1 Area is specifically for Kizomba
2nd Area is specifically for Urbankiz
3rd Area is specifically for Bachata
Festival Dance Teachers
Indeed Eliza Sala will be teaching Kizomba Ginga and Mike & Laho will be teaching Urbankiz! Akram Bouchiba will be teaching Semba & also Afro! Fieke will be taching Lady Styling kizomba! Additionally, Val Moon & Monika will teach Urban Kiz, and Geno & Steffie will teach Bachata Passion!
Beach Festival Location
The festival will be held at Strandpaviljoen de Staat, Zuiderstrand 4, 2583 ZZ Den Haag!
Tickets
There are 3 types of tickets available for the festival:
Full Pass is for three days of workshops, socials, party XL, Djodje live, and also the afterparty!
Day Ticket is for one day of workshops, socials, party XL, and also the afterparty. On Saturday the day ticket inclusive Djodje live on stage!
Party Ticket is for the entire party from 7 pm. On Saturday the party ticket includes Djodje live on stage.
Tickets are available directly from the organizers. No Kizomba Embassy Discount codes are available for this festival. The ticket prices are for phase one. Thus after phase one, the ticket prices will increase.
Full Pass is 3 days while in phase 1 – € 85
Friday Day ticket while in phase 1 – € 35
Friday Party ticket while in phase 1 – € 20
Saturday Day ticket while in phase 1 – € 55
Saturday Party ticket while in phase 1 – € 40
Sunday Day ticket while in phase 1 – € 35
Sunday Party ticket while in phase 1 – € 20
So for more information please contact Fiesta Coconut directly via WhatsApp 06-25116192 or email them info@fiestacoconut.nl https://www.facebook.com/FiestaCoconut.nl/
ABOUT US
The Kizomba Embassy is based out of the Washington, DC Metro Area with Team Members and also Kizomba Instructors all over the globe! We are undoubtedly passionate about Kizomba!
We are also dedicated to growing the kizomba community by highlighting all styles of professional kizomba dance instructors, artists, festivals, news, and also events around the worl
This includes Kizomba, Semba, Urban Kiz, and also Kiz Fusion. We are also a multilingual website.
In order to see the latest on Kizomba Festivals around the world, check out the Kizomba Embassy Events Calendar here!
If you are a Kizomba Organizer then add your Kizomba Festival here!
You can also join the Kizomba Embassy Facebook Group here!
Furthermore, follow us on Instagram here!
Likewise, catch up on our latest blog posts here!
Also, check out our new sister site Bachata Embassy!
Additional Details
Facebook - https://www.facebook.com/FiestaCoconut.nl/
Organizer name - Fiesta Coconut
Organizer Email - info@fiestacoconut.nl
Website - http://www.fiestacoconut.nl/