Registrations have closed.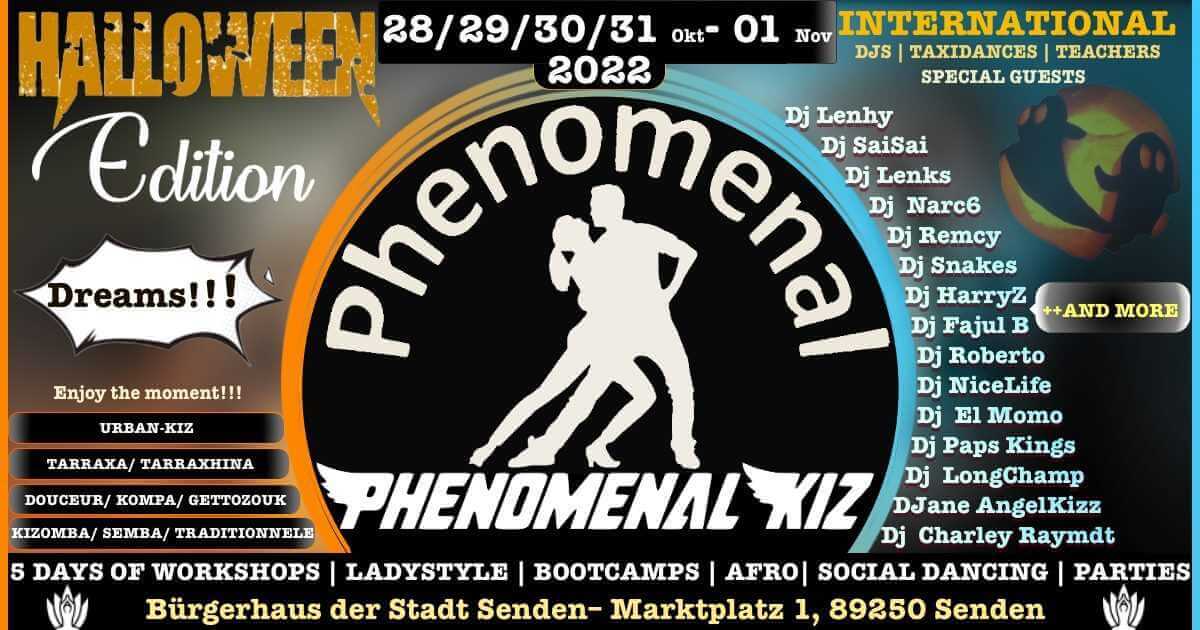 The Phenomenal Kizomba Tanz Festival Will Make You Smile!
1240
1240 people viewed this event.
The Phenomenal Kizomba TANZ Festival- Halloween Edition will be held from October 28th until November 01, 2022!
This Phenomenal Kizomba Tanz Festival is a five-day festival in Senden near Ulm! It will feature Kizomba Tanz (That's Kizomba Dance in German for all you non-German speakers) Urban Kiz, Tarraxa, Tarraxinha, Douceur, Kompa, Ghetto Zouk & also Semba!
DISCLAIMER: This post may contain affiliate links. If you buy something through one of these links or promo codes, you won't pay a penny more, but we will get a small commission, which helps keep the lights on.
Phenomenal Kizomba Tanz Festival Location:
The location of this Kizomba Tanz Festival is Bürgerhaus der Stadt, Sende-Marktplatz 1, 89250 Senden, Germany!
Check out our Booking.com link for the best available hotels near the festival! Several have excellent cancellation policies!
Phenomenal Kizomba Tanz Festival Dress Code:
Friday Night: Black & White!
Saturday Night: Elegant!
Sunday Night: Coming Soon!
Monday Night: Halloween!
The Phenomenal Kizomba Festival will include:
Kizomba Tanz Workshops both Intermediate & Advanced!
Kizomba Tanz Boot Camps both Intermediate & Advanced!
Social Dancing!
Parties!
LadyStyle
AfroHouse!
Kizomba Tanz Instructors:
Kizomba Embassy Ambassador Inna Jadore
Granny & Liliana
Mady Keita
Karl & Nima
Patrick
Fajul B
Dave & Tabea
Franky
Kizomba Tanz DJ's
Kizomba Tanz includes the following DJs:
Lenhy
NiceLife
SaiSai
Snakes
Charley Ramydt
Remcy
El Momo
Roberto
Paps King
Peacebro
HarryZ
Narc6
Instinct
LomChamp
Lenks
Fajul B
SnuS
The Kizomba Embassy is based out of the Washington, DC Metro Area with Team members and Kizomba Instructors from all over the globe!  We are passionate about Kizomba! We are also dedicated to growing the kizomba community worldwide!
This includes Kizomba, Semba, Urban Kiz, and also Kiz Fusion. We are also a multilingual website.
For the latest and up-to-date information on Kizomba Festivals around the world check out the Kizomba Embassy Events Calendar here! 
Additionally, Kizomba Organizers can add your upcoming Kizomba Festival and events to our Calendar here!
Join the Kizomba Embassy Facebook Group here!
Follow us on Instagram here!
Catch up on our latest blog posts here!
Additional Details
Facebook - https://www.facebook.com/events/791153491316793/
Organizer name - PhenomenalKiz
Organizer Email - djelmomo@yahoo.com
Website - https://www.facebook.com/events/791153491316793/