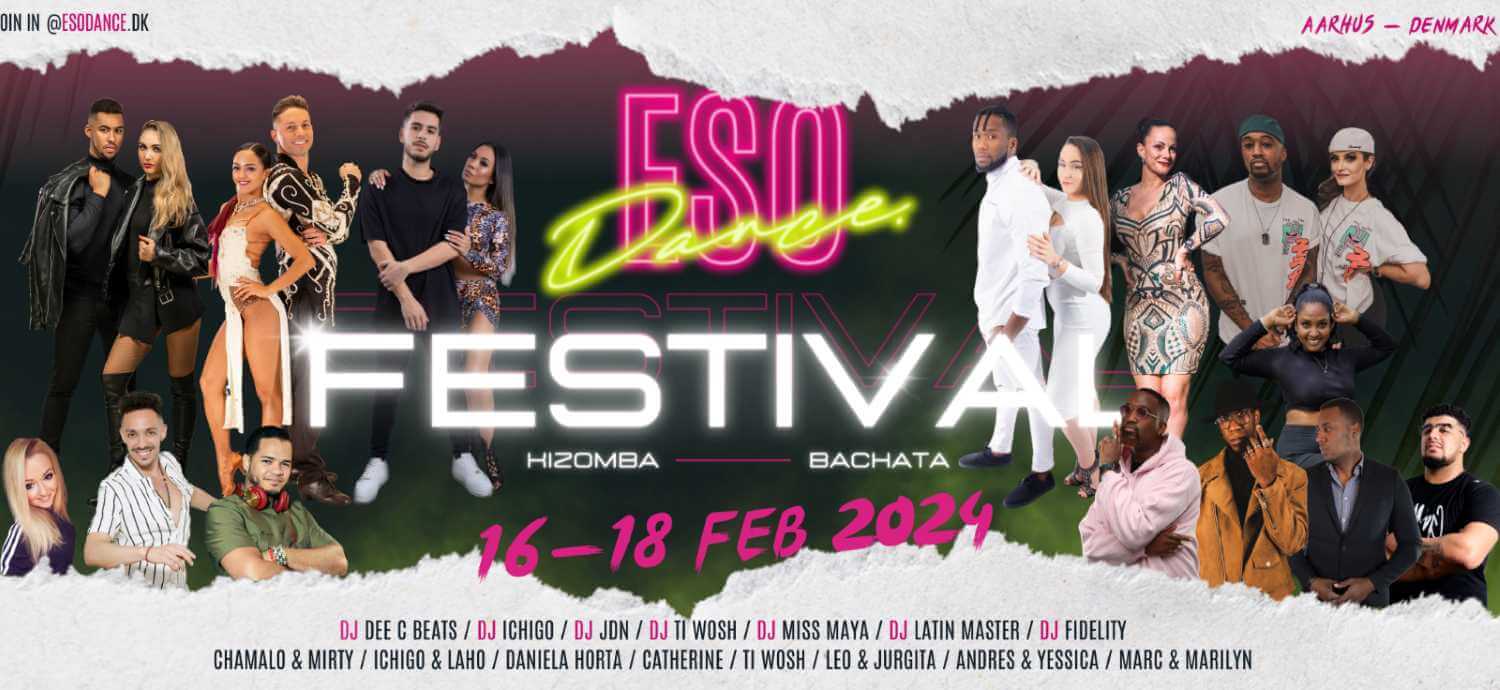 Eso Dance Festival – Kizomba & Bachata In Denmark!
65
65 people viewed this event.
The next edition of the Eso Dance Festival is scheduled for February 16-19, 2024. The organizers are going back to the roots, where they held their first event full of good energy!
What is the location of the Eso Dance Festival?
The festival will be held in Beat Fabrikken. Beat Fabrikken / Stokkebroe Dans, Arresøvej 43, 8240 Risskov, Denmark. The Kizomba Embassy recommends the Guesthouse Sharon Aarhus for lodging or use our special Kizomba Embassy link to search for other available local rooms.
DISCLAIMER: This post may contain affiliate links. If you buy something through one of these links or promo codes, you won't pay a penny more, but we will get a small commission, which helps keep the lights on.
Why attend the Eso Dance Festival?
Firstly this will be an intimate Kizomba and Bachata festival with a 100 percent focus on the community feeling and a positive experience.
Secondly, there will be three colorful days filled with dance and entertainment. Also the music will be Kizomba, Bachata, Salsa, Afrobeat & reggaeton !
Thirdly there will be 18 hours of workshops for Kizomba & Bachata dancing with some international artists.
Fourthly the festival will include a grand party with shows, animations and social dancing. Moreover, there will be 15 taxi dancers and three dance floors in a cozy venue with proper dance floors.
Artists Line up
KIZOMBA
Chamalo & Mirty [FR/NL]
Laho & Ichigo [FR]
Daniela Horta [PT/DK]
Ti Wosh [FR]
Catherine [DK]
BACHATA
Andres & Yessica [ES]
Leo & Jurgita [LT]
Marc & Marilyn (M&M) [ES/PH]
KIZOMBA DJ'S
DeeCBeats [FR/NO]
Ichigo [FR]
JDN [FR]
Ti Wosh [FR]
BACHATA DJ'S
Latin Master [NL]
Miss Maya [DE]
Fidelity [DK/AR]
PHOTOS/VIDEO
TAREHI PRODART (Photo/Video) [FR]
Lotte Grarup (Photo) [DK]
TICKETS
Early Bird Full Pass – 549 DKK (74 EUR) – Only 10 leaders & 10 follower passes for this price.
Get your Full Pass directly from the organizers here:
https://www.yourticket.dk/arrangementer/20894/eso-dance-festival-2024/
NO KIZOMBA EMBASSY DISCOUNT CODES ARE AVAILABLE FOR THIS FESTIVAL.
IMPORTANT Note From the Organizers: No matter if you get a 𝗕𝗮𝗰𝗵𝗮𝘁𝗮 𝗼𝗿 𝗞𝗶𝘇𝗼𝗺𝗯𝗮 𝗙𝘂𝗹𝗹 𝗣𝗮𝘀𝘀, you can still join whatever workshop you like – it just helps us to better plan for the workshops and parties to know what style you prefer.
Join in @esodance.dk
DISCLOSURE STATEMENT
Specifically, all information provided here is for informational purposes and is subject to change. We do our very best to keep all data up to date.
However, it is important to check all information with the official organizers to ensure accuracy. We are not responsible and are not liable for any damages caused by inaccurate information.
ABOUT US
The Kizomba Embassy was founded in the Washington, DC Area with Team members and also instructors worldwide! Indeed we are passionate about Kizomba!
We are also dedicated to growing the kizomba community by highlighting all styles of kizomba. This includes dance instructors, artists, festivals, news, and also events around the world!
This also includes Kizomba, Semba, Urban Kiz, and Kiz Fusion. We are also a multilingual website.
For the latest information on Kizomba Festivals around the world certainly, check out the
Kizomba Embassy Events Calendar here!
If you would like to add your Kizomba Festival to our Calendar then you can do so here!
Also, join the Kizomba Embassy Facebook Group here!
Additionally, follow us on Instagram here!
You can also catch up on our latest blog posts here!
For Bachata lovers check out our new sister site Bachata Embassy!
Lastly, check out our latest Ultimate Guide to Kizomba here!
Additional Details
Facebook - https://www.facebook.com/esodance.dk
Organizer name - Eso Dance
Organizer Email - info@esodance.dk