Registrations have closed.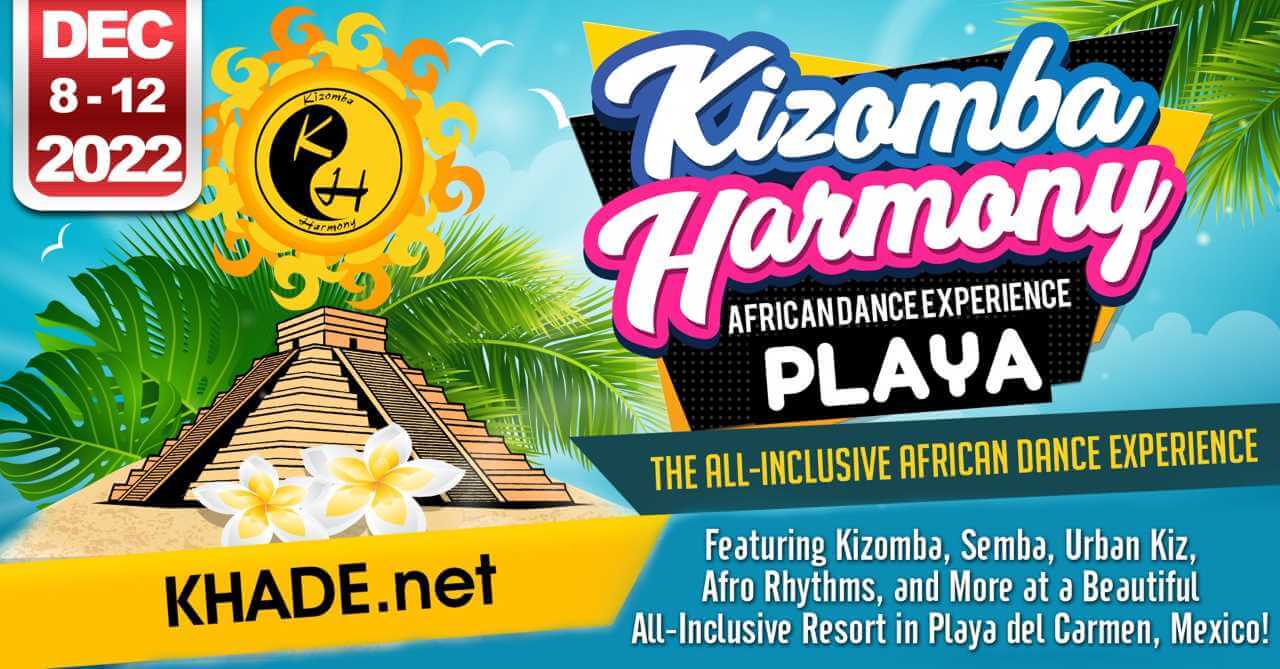 AFRICAN DANCE EXPERIENCE 2022 WILL BE AMAZING!
1062
1062 people viewed this event.
The Kizomba Harmony African Dance Experience is scheduled for December 8 till 12, 2022! This will be the fifth edition of the awesome dance event!
Kizomba Harmony African Dance Experience: Playa (KHADE) is an all-inclusive experience! It includes Kizomba, Semba, Urban Kiz, and also Afro Rhythms. Moreover, it will be held at a beautiful all-inclusive beachside resort in Playa del Carmen, Mexico! This resort is Reef Coco Beach!
DISCLAIMER: This post may contain affiliate links. If you buy something through one of these links or promo codes, you won't pay a penny more, but we will get a small commission, which helps keep the lights on.
Kizomba Harmony organizers are dedicated to providing all attendees with a high-quality dance experience.
Firstly this includes a beautiful winter destination vacation location.
Secondly, it features world-class dance workshops and also parties!
Thirdly this includes world-class dance instructors such as Curtis Seldon from France and Carola Tauler from Spain! Also, well-known Kizomba artist Dasmara Dossantos originally from Angola will be there! Therefore don't miss this amazing dance experience!
African Dance Experience 2022 Venue
The venue is the Reef Coco Beach Resort!
Región 6, Calle Flamingo Mz 7-Lt 1, Luis Donaldo Colosio, 77710 Playa del Carmen, Mexico.
As soon as you arrive at the resort, you will feel the beautiful atmosphere of this genuine Mexican beachfront town. Indeed this resort is known as being a relaxed, intimate, locally-owned property with a cool vibe. Certainly, the resort has many of the amenities of other top hotel resorts on the Riviera Maya.
This includes great service, lavish buffets, a large pool, and fun activities for both kids and adults. Nearby this property is 5th Avenue where you will find restaurants, nightclubs, and also world-famous shopping.
African Dance Experience 2022 Passes
All passes must be purchased via the organizer's website https://khade.net.
Additionally, no Kizomba Embassy promo codes are available for this event.
General Admission Female Pass is $115.00 as well as an $8.64 fee. Sales end on Dec 8, 2022.
General Admission Male Pass is $115.00 as well as an $8.64 fee. Sales end on Dec 8, 2022.
How to get to Playa Del Carmen from Cancun Airport?
Specifically, you have three options. The first option is to take a private taxi from the airport to the hotel.
The second option is to take a shared shuttle from one of the local companies from the airport to the hotel. This option can be booked on well-known travel sites.
Lastly, the ADO bus is the cheapest option but will drop you off at the bus station in Playa Del Carmen. You will then have to either walk or take a cab to the hotel. If you have a lot of luggage then take a cab to the resort.
ABOUT US
The Kizomba Embassy is based out of the Washington, DC Metro Area with Team members and also instructors worldwide! Indeed we are passionate about Kizomba!
We are also dedicated to growing the kizomba community by highlighting all styles of kizomba. This includes dance instructors, artists, festivals, news, and also events around the world!
This also includes Kizomba, Semba, Urban Kiz, and Kiz Fusion. We are also a multilingual website.
For the latest information on Kizomba Festivals around the world certainly, check out the
Kizomba Embassy Events Calendar here!
If you would like to add your Kizomba Festival to our Calendar then you can do so here!
You can also join the Kizomba Embassy Facebook Group here!
Additionally, follow us on Instagram here!
You can also catch up on our latest blog posts here!
Lastly, check out our new sister site Bachata Embassy!
Additional Details
Facebook - https://www.facebook.com/events/584279245658146
Organizer name - Kizomba Harmony
Organizer Email - kizombaharmony@gmail.com
Website - https://KHADE.net