Registrations have closed.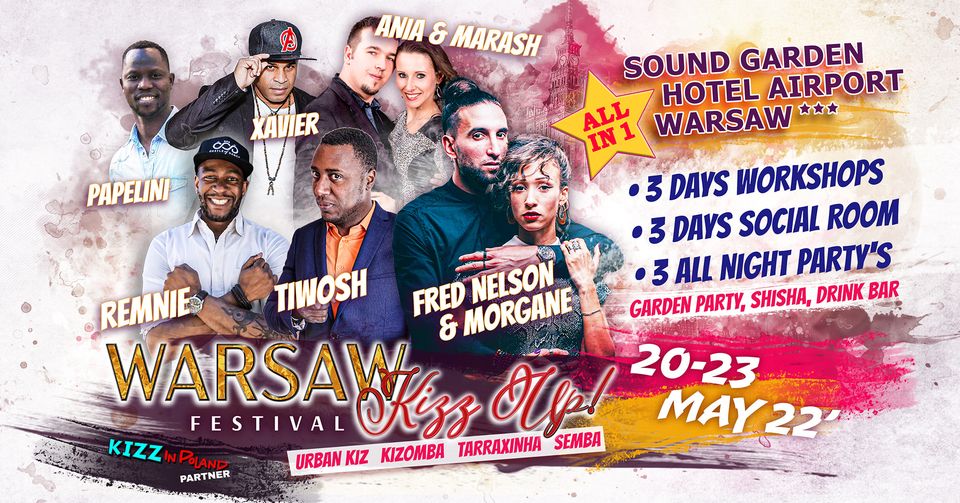 THE WARSAW KIZZUP DANCE FESTIVAL WILL BE AWESOME!
828
828 people viewed this event.
Warsaw KIZZUP Dance Festival will be held from 20 until 23 May 2022 in Warsaw, Poland!
Festival Organizers Covid guarantee. If the event is canceled due to the pandemic you will get a full refund. Book with confidence!
DISCLAIMER: This post may contain affiliate links. If you buy something through one of these links or promo codes, you won't pay a penny more, but we will get a small commission, which helps keep the lights on.
NO KIZOMBA EMBASSY DISCOUNT PROMO CODES ARE AVAILABLE FOR THIS FESTIVAL.
ALL Tickets must be purchased directly from the festival organizers. See the Festival Facebook Event page for tickets: https://www.facebook.com/events/402671140812076
WARSAW KIZZUP DANCE FESTIVAL 2022
Why should you attend this festival?
Firstly, there will be three days of awesome workshops with some of the best artists.
Secondly, there will be three days of social dancing with great dancers and also some great shows!
Thirdly the festival will take place at the very exclusive Sound Garden Hotel Warsaw! It is located approximately five minutes from Warsaw Airport.
Fourthly, this festival will include Urban Kiz, Tarraxinha, Tarraxxo, Kizomba, and also Semba!
WARSAW KIZZUP DANCE FESTIVAL 2022 HOTEL INFO
Sound Garden Hotel Airport Warsaw
5 minutes to the hotel from Airport by uber for approximately 5 euros.
Amazing prices from 54 euro 2 persons a room per night.
The breakfast is just 13 euros.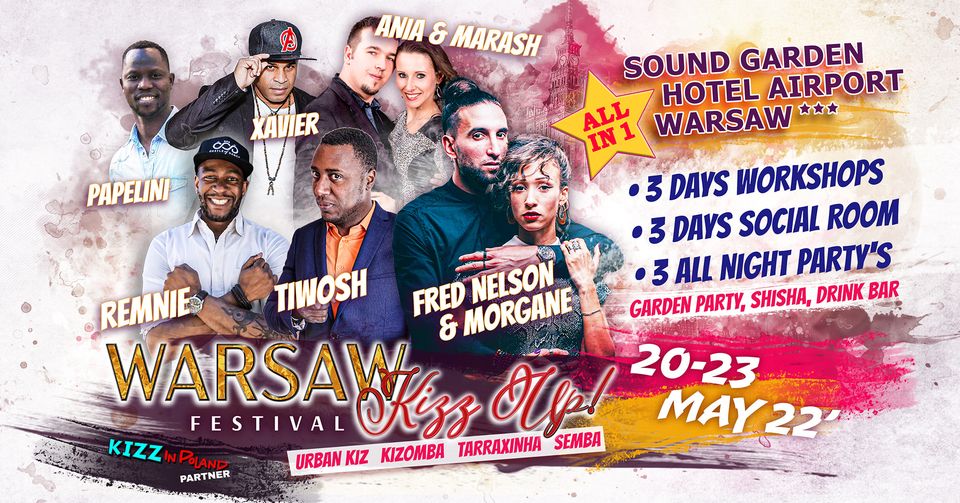 WARSAW KIZZUP DANCE FESTIVAL 2022 DJ's lineup
Dj Snake's (confirmed)
Dj Morelasoul (confirmed)
Dj Maximelody (confirmed)
Dj Diablo (confirmed)
Dj Lowelo (confirmed)
Dj Dee (confirmed)
Dj Desmo Punk Poland (confirmed)
Dj Kapitual "Semba" (confirmed)
Dj DVA Poland
Dj Djemix France
Artists/ Teacher's line up
Fred Nelson & Morgane (confirmed)
Tiwosh ( confirmed)
Papelini (confirmed)
Ania& Marek Marash (confirmed)
Xavier & Aleksandra (confirmed)
Remnie (confirmed)
Michalina Marczuk Poland (confirmed)
Claudio Blackman Holland(confirmed)
Taxi teams / dancers
Unit'kiz
EVENT PHOTOGRAPHERS & VIDEO
Aleksandra Kuś Poland
Mariusz Solecki Poland
Arkadio Poland
Contact organizers email:
Maximelody & Margo:
warsawkizzup@gmail.com
ABOUT US
The Kizomba Embassy is based out of the Washington, DC Metro Area with Team members and also instructors worldwide! Indeed we are passionate about Kizomba!
We are also dedicated to growing the kizomba community by highlighting all styles of kizomba. This includes dance instructors, artists, festivals, news, and also events around the world!
This also includes Kizomba, Semba, Urban Kiz, and Kiz Fusion. We are also a multilingual website.
For the latest information on Kizomba Festivals around the world certainly, check out the
Kizomba Embassy Events Calendar here! 
If you would like to add your Kizomba Festival to our Calendar then you can do so here!
Also, join the Kizomba Embassy Facebook Group here!
Additionally, follow us on Instagram here!
You can also catch up on our latest blog posts here!
For Bachata lovers check out our new sister site Bachata Embassy!
Lastly, check out our latest Ultimate Guide to Kizomba here!
Additional Details
Facebook - https://www.facebook.com/events/402671140812076
Organizer name - WARSAW KIZZUP
Organizer Email - warsawkizzup@gmail.com
Website - http://warsawkizzup.com