Registrations have closed.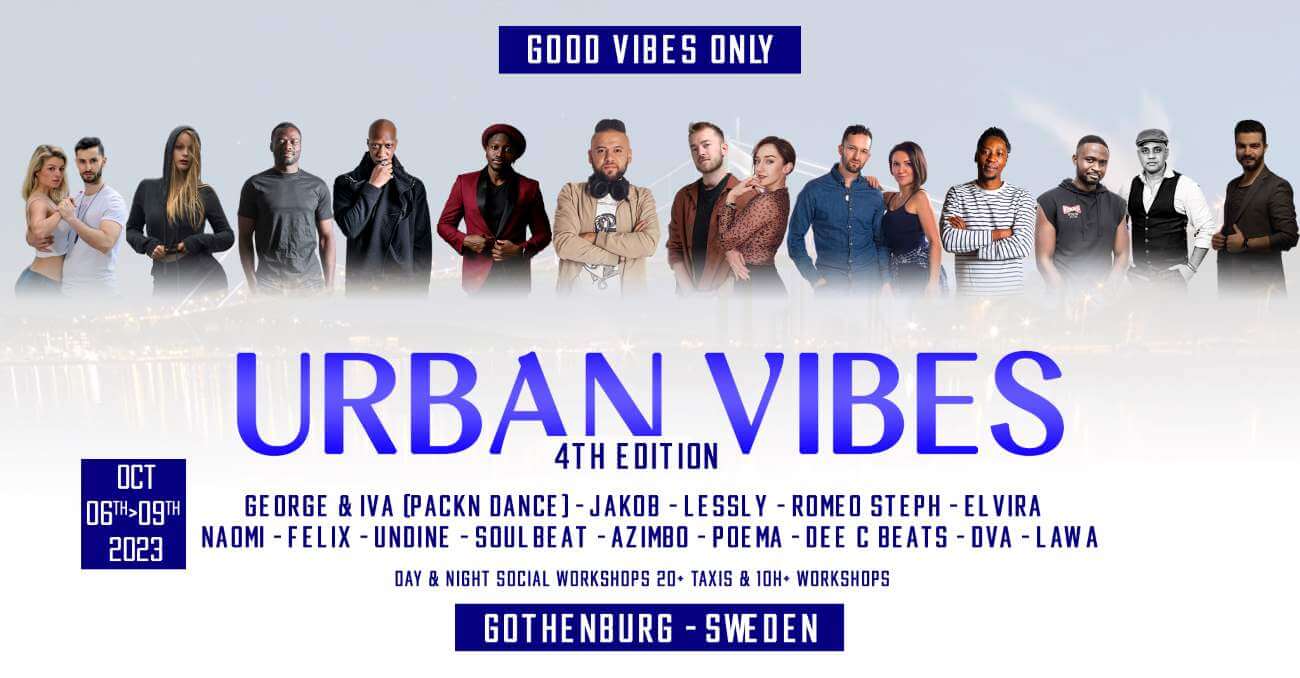 Urban Vibes Festival Will Make You Dance!
165
165 people viewed this event.
The 4th edition of URBAN VIBES, an Urban Kiz Dance Festival is scheduled from October 6-9, 2023 in Gothenburg Sweden! Don't miss this premium Urban Kizomba experience in beautiful Gothenburg, Sweden
What is the location of the Urban Vibes Urban Kiz Dance Festival?
HipHop Akademien Brahegatan 11, 41505 Gothenburg, Sweden. It is only thirteen minutes from Gothenburg Central Station by car or public transportation. The main accommodation is only 15 minutes by walk or one tram stop from the venue. Kvibergs Vandrarhem – Hostel.
Need a hotel for the festival? Use the Kizomba Embassy special Discount Hotel link, which features many hotels with excellent cancellation policies!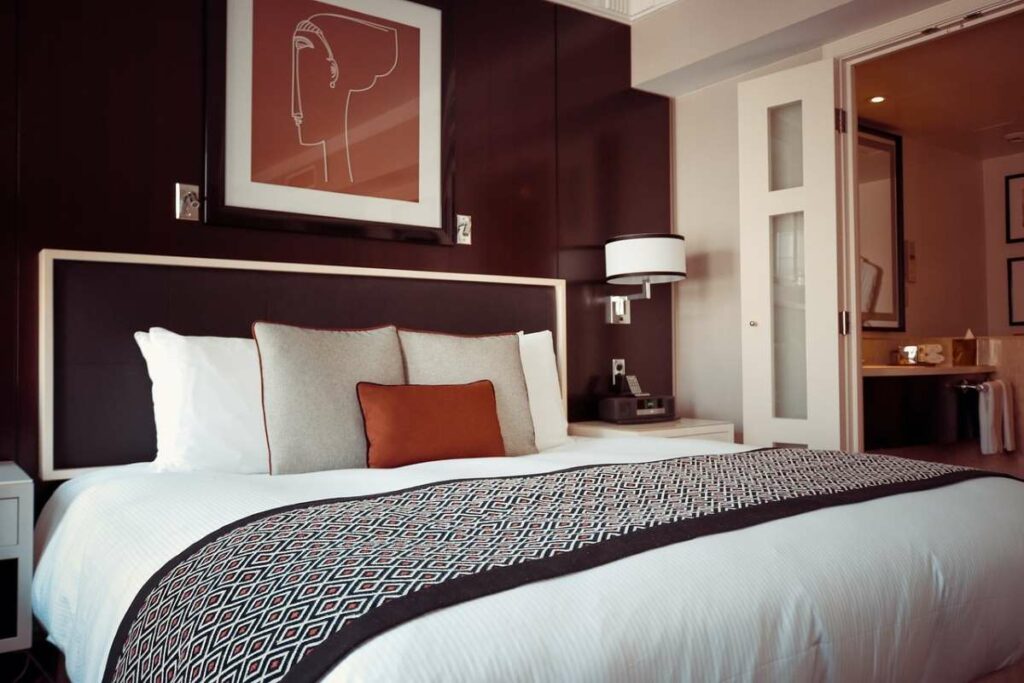 DISCLAIMER: This post may contain affiliate links. If you buy something through one of these links or promo codes, you won't pay a penny more, but we will get a small commission, which helps keep the lights on.
Why Should I Attend the Urban Vibes Urban Kiz Festival?
Firstly this Urban Kiz Festival in Gothenburg, Sweden will have over 30 international artists, DJs, and Taxi dancers!
Secondly, this Urban Kiz Dance Festival is being held at an awesome venue in the center of Gothenburg!
Thirdly this Urban Kiz Festival in Gothenburg, Sweden includes ten-plus hours of dance workshops!
Fourthly this dance festival will feature three parties and two socials with only good vibes!
Who are the artists for the 2023 Urban Vibes Urban Kiz Festival?
GOERGE (Pack N Dance)
IVA (Pack N Dance)
FELIX
UNDINE
LESSLY
ROMEO STEPH
SUSANNA
SKATE
JAKOB
ELVIRA
SCHEDULE
F͟R͟I͟D͟A͟Y͟
21:00 till 22:00 (Party WS)
22:00 till 04:00 (Party)
The dress code is coming soon!
S͟A͟T͟U͟R͟D͟A͟Y͟
13:00 till 16:00 (WS)
16:00 till 20:00 (Social)
21:30 till 22:30 (Party WS)
22:30 till 04:00 (Party)
The dress code is coming soon!
S͟U͟N͟D͟A͟Y͟
13:00 till 15:00 (WS)
15:00 till 02:00 (Social/Party)
The dress code is coming soon!
Passes
Super Early Bird – 650 SEK/60€ (SOLD OUT)
Early Bird – 700 SEK/70€ (Limited, 15 tickets or until May 29)
Full Pass – 800 SEK/80€ (Limited, 30 tickets or until June 26)
July 31st Full Pass – 900 SEK/90€ (Limited, 30 tickets or until July 31)
Full Pass – 1,000 SEK/100€ (Limited, 30 tickets or until August 28)
THE EVENT IS CASH-FREE – Coupons are available on the ticket link. (Can be used for wardrobe, snacks, food, and drinks)
TICKET POLICY – Tickets are non-refundable and purchases are final. However, the organizers offer the opportunity to sell the tickets and change the name of the passes for a fixed fee of 100 SEK/10€.
ALL NAME CHANGES NEED TO BE DONE WITH THE ORGANIZERS. All passes must be purchased through the organizer. No Kizomba Embassy discount codes are available for this festival.
️International Travellers information
The Main airport: is GOT – Gothenburg / Landvetter
Other International options:
MMX (Malmö) – 2,5 hours away with bus/train
CPH (Copenhagen) – 3 hours away by train or 4,5 hours by bus
OSL (Oslo) – 3 hours away by bus
ARN (Arlanda/Stockholm) – 3 hours away by train
For any other questions or inquiries please contact Dakali Events! This Festival is organized: by Dakali Events & Dakali team
DISCLOSURE STATEMENT
Specifically, all information provided here is for informational purposes and is subject to change. We do our very best to keep all data up to date.
However, it is important to check all information with the official organizers to ensure accuracy. We are not responsible and are not liable for any damages caused by inaccurate information.
ABOUT US
The Kizomba Embassy was founded in Washington, DC. Specifically, we have Team members and Kizomba Instructors all over the globe! Indeed, we are passionate about Kizomba!
We are also dedicated to growing the Kizomba community! We do this by highlighting all styles of professional kizomba dance instructors, artists, and also festivals worldwide!
This includes Kizomba, Semba, Urban Kiz, and also Kiz Fusion. We are also a multilingual website currently available in 10 languages. Additionally, our new sister site is the Bachata Embassy!
If you would like to see more Kizomba Embassy Ambassadors, then check out our Kizomba Ambassadors page here!
For the latest information on Kizomba Festivals worldwide check out the Kizomba Embassy Events Calendar here!
If you would like to add your upcoming Kizomba Festival to our Calendar, then you can do so here!
Join the Kizomba Embassy Facebook Group here!
Follow us on Instagram here!
Catch up on our latest blog posts here!
Lastly, check out our latest Ultimate Guide to Kizomba here!
Additional Details
Facebook - https://www.facebook.com/events/175047541969305/
Organizer name - Dakali Events
Organizer Email - tigdem@hotmail.dk
Website - https://dakalidanceschool.se/events/