Registrations have closed.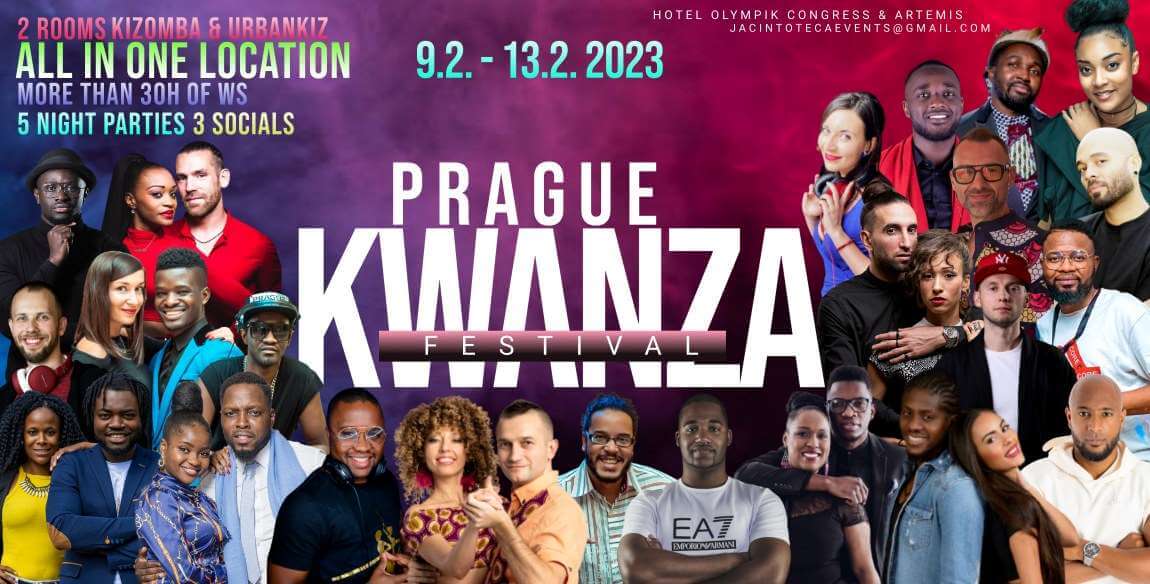 Ready For A Phenomenal Kwanzaa Festival In Beautiful Prague!
508
508 people viewed this event.
The 2023 Prague Kwanzaa Festival will be held from February 9th – 14th, 2023!
This Kwanzaa festival will be an all-in-one location dance festival! The dance styles featured include Kizomba, Semba, Urban Kiz, and Ghetto Zouk! It will also have Tarraxinha, Afrobeat, Kuduro, Kompa, Doceur, Tarraxo, and lady styling!
The Organizers for this wonderful festival are Jacinto Teca & Lucy & Magdalena!
Specifically for Discount Flights, Rental Cars, Local Attractions & More use our Kizomba Embassy Travel Link Below!
DISCLAIMER: This post may contain affiliate links. If you buy something through one of these links or promo codes, you won't pay a penny more, but we will get a small commission, which helps keep the lights on.
Save Money with our Kizomba Embassy KWANZAA Festival Discount codes!
5 Euros discount for a dance pass (EMBASSY 5) or 10 Euros discount for a full pass (EMBASSY 10)! Also 13 Euros discount for a couples pass (EMBASSY 13)! Get your Passes directly from the Organizer Here!
Kwanzaa Festival Artists
Ony & Carla
Fred Nelson & Morgan
Josy & Fabricio
Albir Rojas
Jamba
Landry & Windy
Isabelle & Felicien
Kizomba Embassy Ambassadors VAMULA PL
Enah & Pocahontas
Adeline Suedois
Rabbil
Lucy & J.Teca
Festival DJs
Paraiso
Hugo Boss
Stepanio Lima
Russelius
Alnova
Bartef
Sabura
Gabriel
Sweetkizz Lenka
Fabio
Lamin
KWANZAA PROGRAM
Thursday, February 9th, 2023
Pre-Party from 20:00
Prostor Země – Nádražní 39, 150 00 Prague 5
Kizomba Workshop 20:00 – 20:45 not included in any pass.
The entrance fee is 250CZK or 10 Euros.
Friday, February 10, 2023
Workshops from 16:00. The Afternoon social dance from 14:00, and party from 23:00!
Saturday, February 11th, 2023
Workshops from 10:00. The Afternoon social dance from 14:00 and party from 23:00!
Sunday, February 12, 2023
Workshops from 10:00. The Afternoon social dance from 14:00 and party from 23:00!
Monday, February 13, 2023
After-party from 21:00!
Prostor Země – Nádražní 39, 150 00 Prague 5
Not included with any pass. The entrance fee is 250CZK or 10 Euros!
Kwanzaa Festival Passes
FULL PASS & COUPLE PASS
(Specifically, the full pass includes all 3 party nights, all workshops, and the afternoon social room).
DANCE PASS
(The dance pass includes all 3 party nights and also the afternoon social room).
All passes are non-refundable, however, resale and or name changes are allowed.
Name changes are allowed until February 8, 2023.
Moreover, in case of cancellation of this edition, all tickets will be valid for the next edition at no additional cost.
August 1st till Oct 31st, 2022
Full Pass 95€ / 2375 CZK
Couple Pass 171€ / 4275 CZK
Dance Pass 70€ / 1750CZK
Festival Location
The Hotel Complex is located at U Sluncové 14, Praha 8 186 76. It includes Hotel Olympik Artemis, Hotel Olympik Congress, and Hotel Olympik Tristar. Thes hotels are all connected with easy access to the festival.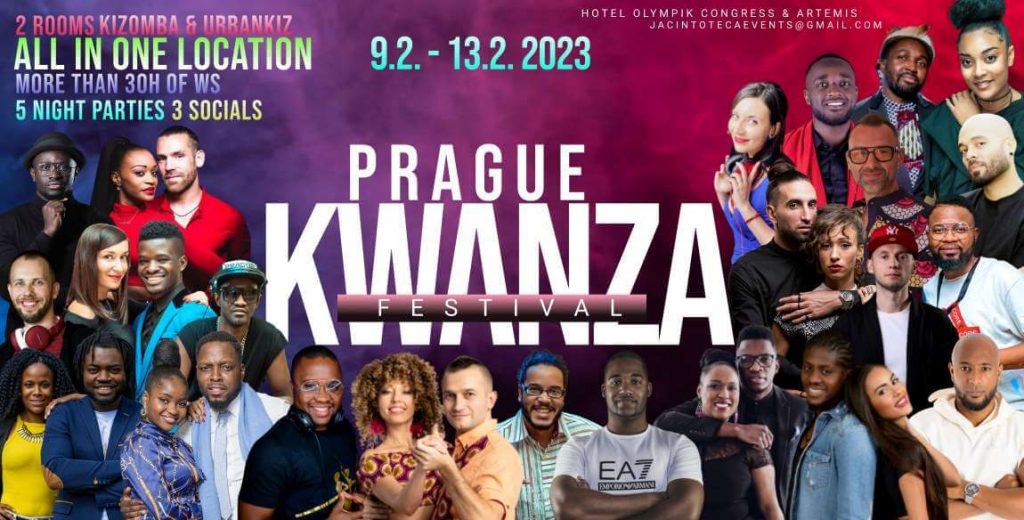 DISCLOSURE STATEMENT
Specifically, all information provided here is for informational purposes and is subject to change. We do our very best to keep all data up to date.
However, it is important to check all information with the official organizers to ensure accuracy. We are not responsible and are not liable for any damages caused by inaccurate information.
About Us
The Kizomba Embassy is based out of the Washington, DC Metro Area. Specifically, we have Team members and Kizomba Instructors all over the globe! Indeed, we are passionate about Kizomba!
We are also dedicated to growing the kizomba community! We do this by highlighting all styles of professional kizomba dance instructors, artists, and also festivals worldwide!
This includes Kizomba, Semba, Urban Kiz, and also Kiz Fusion. We are also a multilingual website currently available in 10 languages. Additionally, our new sister site is the Bachata Embassy!
If you would like to see more Kizomba Embassy Ambassadors, then check out our Kizomba Ambassadors page here!
For the latest information on Kizomba Festivals worldwide check out the Kizomba Embassy Events Calendar here!
If you would like to add your upcoming Kizomba Festival to our Calendar, then you can do so here!
Join the Kizomba Embassy Facebook Group here!
Follow us on Instagram here!
Catch up on our latest blog posts here!
Lastly, check out our latest Ultimate Guide to Kizomba here!
Additional Details
Facebook - https://www.facebook.com/events/3088870994734342
Organizer name - Jacinto Teca & Lucy & Magdalena
Organizer Email - jacintotecaevents@gmail.com