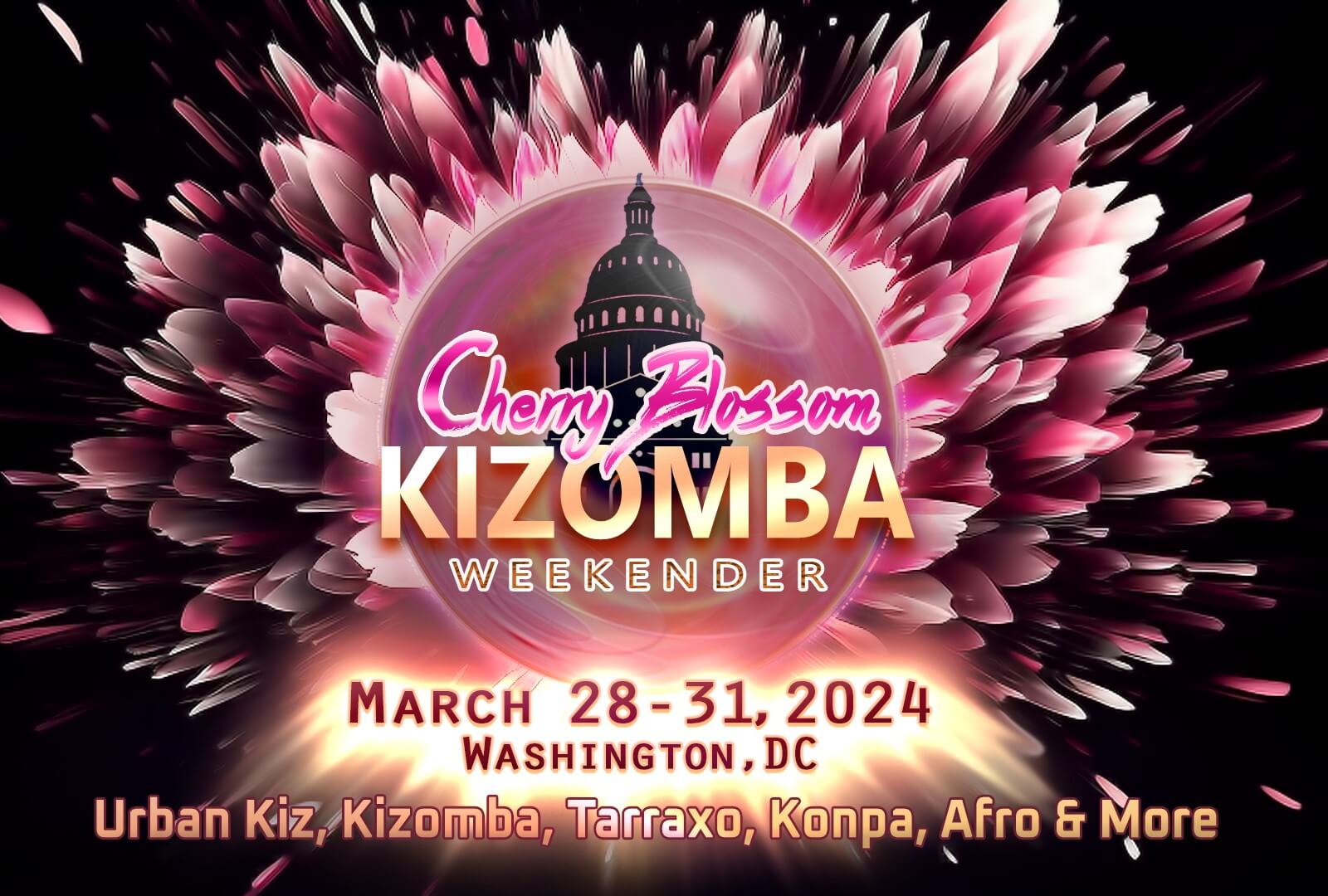 We're Ready For The Best Cherry Blossom Kizomba Festival!
2516
2516 people viewed this event.
The 2024 DC Cherry Blossom Kizomba Weekender Festival is March 28 to April 01, 2024! It is a well-known and popular Kizomba Dance Festival! Don't miss this fun dance event in the beautiful Washington, DC metro area!
What is the location of the Cherry Blossom Kizomba Weekender Festival?
The Cherry Blossom Kizomba Festival organizers haven't announced the location yet. However last year It was held at the Crown Dance Studio. The Crown Dance Studio is located at 2820 Dorr Avenue in Fairfax, VA!
The Kizomba Embassy recommends booking a refundable room in Virginia near the Crown Dance Studio! The nearest hotel to the studio is the Hilton Garden Inn.
Kizomba Embassy Pro Tip: Always book a hotel room with a free cancellation policy! This will protect you in case you need to cancel for any reason or if a festival is canceled.
If you need a room, use the below Special Kizomba Embassy Discount Link! It features available hotels in Fairfax, VA during the dates of the festival. Additionally, many of these rooms have a free cancellation policy!
DISCLAIMER: This post may contain affiliate links. If you buy something through one of these links or promo codes, you won't pay a penny more, but we will get a small commission, which helps keep the lights on. Additionally, we are an Amazon Associate and earn from qualifying purchases. Thanks for supporting us!
Why Attend the Cherry Blossom Kizomba Festival?
The DC Cherry Blossom Kizomba Weekender is a one-of-a-kind event! Specifically, it is held during the cherry blossom season in the Washington DC metro area.
Firstly, it features 3 days of dance classes from international and USA-based instructors.
Secondly, it includes daytime outdoor dances and three evening dance parties.
Thirdly, it provides a variety of social and cultural activities.
Specifically, the primary dance and music genres at the festival are Urban Kiz, Kizomba, and Tarraxa.
It is also a unique celebration of spring, life, music, dance, African roots, and international unity.
For Additional information about the artist and DJ lineups, check out the Cherry Blossom Kizomba Festival Facebook Event Page! Passes are currently $149.00.
Moreover, no Kizomba Embassy Promo Codes are available for this dance festival!
Also, make sure to only purchase passes directly from the Cherry Blossom Festival organizers! In previous years several individuals attempted to sell fraudulent festival passes.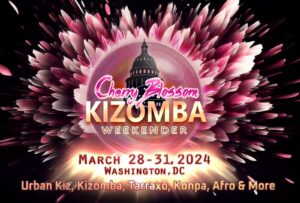 Disclosure Statement
Specifically, all information provided here is for informational purposes and is subject to change. We do our very best to keep all data up to date.
However, it is important to check all information with the official organizers to ensure accuracy. We are not responsible and are not liable for any damages caused by inaccurate information.
About us
The Kizomba Embassy is based out of the Washington, DC Metro Area with members from all over the globe! Indeed, we are passionate about Kizomba!
We are also dedicated to growing the kizomba community worldwide. Specifically by highlighting all styles of professional kizomba dance instructors, artists, and festivals!
This includes Kizomba, Semba, Urban Kiz, and also Kiz Fusion.
We are also a multilingual website currently available in nine languages.
If you would like to see more Kizomba Embassy Ambassadors, then check out our Kizomba Ambassadors page here!
For the latest information on Kizomba Festivals worldwide, check out the Kizomba Embassy Events Calendar here!
If you would like to add your Kizomba Festival to our Calendar then you can do so here!
Join the Kizomba Embassy Facebook Group here!
Follow us on Instagram here!
Lastly, check out some of our other articles from both the Kizomba Embassy & the Bachata Embassy!
Most Popular Salsa Dance Videos
Where to dance Bachata Salsa & Kizomba in Buenos Aires
Bangkok Nightlife Best Places to Dance
Paris Nightlife Best Places for Dancers
Most Popular Bachateros on Instagram
Where To Dance Bachata in Tokyo Japan
Best places to Dance Bachata in Spain
How To Pick The Right Dance Instructor
Top 50 Tips For Taking Bachata and Salsa Classes
Your Ultimate Guide to Kizomba
Best Places to Dance Kizomba in Paris, France
Additional Details
Facebook - https://www.facebook.com/events/522123639997423/
Organizer name - DC Cherry Blossom Kizomba Weekender
Organizer Email - cbkizdc@gmail.com